Rent a Paddleboard
Text for advanced reservations
480-220-5379
, then show up, pick up and go!
We are currently in the off season here in Arizona and weekdays our shop is open by appointment and as needed so while w
e are always available every day/almost any time of day but we like to paddle too, so call ahead and plan your day on the water!
---
​
****NEW FOR 2017! Rent A Box! Load up our courtesy box van with 10-25 boards and drive yourself to the lake! Ideal for river runs, sunset or sunrise parties, birthdays, corporate events, SUP yoga, fitness, team building or family reunion
The van is provided as a courtesy, no additional cost to you! Call for details and to book your event
480-220-5705
****
​Note the shop closes periodically so we can partake in the events scheduled on the water. In the winter season the shop is typically open by advanced appointment for sales, accessories, rentals, lessons, or any general product information.

No Snow takes the hassle out of renting paddle boards.
We provide all the roof racks and lashing straps you need to transport your board on any 4 door vehicle or in a clean empty truck bed. (
F
or planning purposes figure 3-4 boards per 4 door vehicle roof, or 7 in a clean and empty truck bed- no 5th wheel hitches, coolers, tools, boxes, toolboxes or
tail
gate
extenders)
The only vehicle we can't strap your boards to is a convertible, and if that is the case, then we load your trunk with inflatable SUPs and a hand pump! We have a wide selection of boards, suited for all your needs. We have river boards, lake boards, fishing boards, racing boards, Yoga boards, kids boards…you name it, we have it or can get it! Whether you are looking to do a full day of paddle boarding, or just want to rent a paddle board for a couple hours, contact us!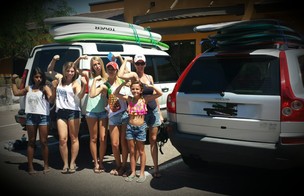 Rental Packages
Rental Special

$40/board all day
Express Rental Special

$30/board for ~ three hours (Designed for River Basin, offered May-September while river level is high)
Save time by downloading and filling out the waiver CLICK

here.
Canyon Lake Shoreline Rentals $20/board per hour includes instruction (Available designated dates in Summer 2018!)
Call for Group Package Discounts, we can tailor a SUP experience to accommodate large groups!
---
Don't forget to watch a few of our favorite getting started videos, these are short but helpful getting started videos so you can set yourself up for the best SUP experience!
Click here for the list
---
---
What to Bring
Need some help knowing what to bring? Here are a few of our suggestions.

Must Haves



Paddleboard (No Snow included)
Paddle (No Snow included)
Lifejacket (NoSnow has limited sizing included with rental boards but if you want to wear a life vest please make arrangements, safety first!)
Leashes
Water / Hydration
Snacks
Hat
Clothes that can get wet, swim suit or rash guards
Towel (keep in the vehicle to use after your day on the water)
Sunscreen - and reapply often!
Sunglasses and something to secure them on to prevent from losing if you fall off (we sell sunglass bungees)
$8 Tonto National Park Pass if required at your SUPing destination (available at NoSnow! )
Footgear (some people paddleboard without shoes, this is personal preference)
Optional
Short Rope/Carabiner Clips (for tying down equipment or coolers of it doesn't fit under the bungee cords)
Cooler (if you are going for a longer period of time) Soft sided lunch bags work great!
Water shoes
Waterproof camera or waterproof case for camera and car keys, (we sell waterproof camera cases at the shop)
Drybags are available for nominal fee to use during your day, just ask for one to be included with your gear reservation