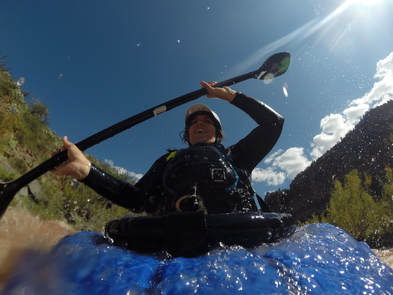 Your name, where you are from, where you live now, how long have you been paddle boarding?
Dannie Keil, born in Juneau AK, currently in Phx, I've been paddleboarding for about 5years now.

1.When did you start paddle boarding?
a. Why did you start paddle boarding? (for fun, exercise, etc)
I've been a whitewater kayaker for several years, but picked up paddleboarding one summer when the rivers were pretty low... river SUP was just getting popular, so I decided to give it a go. It brought a whole new experience to the rivers I already loved, and made the easier runs more challenging. I was instantly hooked, especially because it made it easier to have my river dog with me on board.
b.What level do you consider yourself?
This is always a tough answer for me because we never stop learning! I like to think I'm an intermediate paddler with lots of learned wisdom, haha... I've been a paddlesports instructor for almost 12 years at varying capacities and have loved every minute of it. I'm currently a Level 2 SUP Instructor and Level 3 Whitewater Kayak Instructor through the ACA, and working on becoming an Instructor Trainer with the ACA (American Canoe Assoc).

2.Where are your favorite places to stand up paddle board?
Since I've gotten in to SUP, it's rare that I don't have a board packed with me on all my trips... it's so easy to fix a paddle in to your schedule and trip, so I've gotten quite a few "favorites" on my list. Paddling through the Glen Canyon Corridor on a multi-day self- support is a top favorite (Insta famous Horseshoe Bend, anyone??), the crystal clear rivers of the Montana Rockies, or the Animas River in Colorado. Anywhere I can run whitewater with my pup on the board is always a favorite.
a. Where would you like to go next?
I've a laundry list of places I'd like to SUP next that seems to grow daily, however at the top of that list would be Glacier Bay National Park, in Alaska. I've been fortunate to visit GBNP already, but never got the chance to paddle. The views and terrain are hard to capture in words, but I'd definitely say they're beyond epic. The terrain makes it a bit difficult to explore unless on board a cruise ship or charter boat. A multi-day SUP trip through GBNP would be such a unique experience and provide access to remote areas of the park that few get the opportunity to explore.

3. What would you tell someone who has never paddle boarded?
Get on a board and try it! It's a lot simpler than it seems and is the best way to get your fix of happiness and smiles. One of the most rewarding aspects of being a SUP Instructor is sharing my passion and seeing those "lightbulb moments" when someone experiences first hand just how easy it is to get in to the sport.

4. What was your best experience stand up paddle boarding?
A few years ago I decided to SUP the Main Salmon river in Idaho. It was high flows, and for some reason spending a week running big water on my SUP sounded like a good time. Luckily I was supported by rafts who carried the gear and captained by rad guys who quickly became my cheering squad and very much needed safety crew. The first day about an hour on the river, I fell off my board at the top of the rapid and had my most intense (to date) swim on the river. Repeat this for five days on the river... each day I got better at paddling through these big water rapids, but at camp each night I passed out before dinner exhausted. The last day as we packed up camp, I was about to deflate my board defeated and hop on a raft for the ride out, but my friend Mike convinced me otherwise. The last big rapid is aptly name Vinegar. I watched as our rafters fought through the waves getting tossed around nearly flipping, knowing I was up next. As I eddied out and started paddling straight in to the chaos, I had a "what's the worst that could happen" moment of clarity, and paddled straight ahead. The rapid had numerous waves crashing around and on my board, but by sheer stubbornness I was able to keep my line through and make it out still standing on my board. As soon as I realized that I had made it through I collapsed on my board hysterically laughing and crying, with a wave of emotions and adrenaline hitting me all at once. That rapid, more than anything else I've done on my board, is still in my mind like it was yesterday... I can't wait to go back and style the entire river (a girl can dream, right?).


5. Where did you hear about NoSnow?
Shortly after NoSnow opened shop, I started seeing social media posts and posts online about renting boards from them. I was stoked that there was now a local shop I could rent from and get more in to the sport, so I made a plan to check them out. I met Court who instantly made a few jokes about me being a sitter (kayaker, haha) and probably thought I was crazy for wanting to whitewater SUP, but got me squared away with boards to help me get my whitewater fix. I fell in love with the Shop right away and the overwhelmingly positive vibe and culture that Heather and Court had cultivated in such a short time after opening their doors. Years later it's amazing to see how they've helped to grow the SUP community locally and across the Country, as well as promote amazing local organizations and businesses with their partnerships.